A WORLD VIEW FROM THE WHEELHOUSE!
2009 and 2010
13th January 2009
Hot News! Snow in Aigues-Mortes! Unbelievable but true! I looked away from the day's TV screening of "Aerobics Oz Style"…life's simple pleasures…and blow me it was precipitating outside. It only lasted 48 hours, and hopefully that is it for the winter. We continue to have freezing nights and pleasant days.


Today's Barbie is cancelled!
I continue to watch in horror as our political pygmies strut the world stage, and the UK economy goes to hell in a handcart. Fortunately Andy Murray is standing up to the plate. His latest makeover has him looking uncannily like a young Charlton Heston. His new managing agents are allegedly aiming at earnings of 100 million for him. Unless you are named Kaka, not bad if you can get it! But the lad does have talent!

"Prince William in a helicopter? I am going to catch the sucker! Stage left Bobo "No way Hosaay!"
Espiguette again!
14th February 2009
After inches of rain, and howling winds that swung around the compass, the waters of Aigues-Mortes finally burst their banks. Only by a few inches on our mooring, but enough to inconvenience the cats. It was lapping around the base of our electrics, but never to the point of shorting out the supply! Flooding rarely happens in Aigues-Mortes these days, but like crashing stock markets, statistically possible! I felt that it had more to do with VNF knob twiddling at the St Gilles Ecluse combined with a spring tide rather than local water run-off.

Within hours the water was over the edge!

Our Belgian Barge fenders are ideal in these curcumstances. However if your are anal about your paintwork, they are not for you!

...The trouble with balloon fenders is that just when it matters they tend to pop out! The locals were hanging discarded tyres over the edge, although as I recall from somewher they are actually illegal in France...where they can finsish up jamming lock gates. My Yokohama fenders are the answer, (Top right) but they do need craning into the water. They are good for about a foot over the edge, but after that it is drop anchors' time!
All the rain allowed me to finally track down a mystery leak source to where the base of the wheelhouse rests on it's supporting steelwork. Despite a wooden overhang and a space of only a millimetre, water was finding it's way in by capillary action. We did not seal this gap originally because the plan was that the wheelhouse could be easily craned off to provide complete access to the engine room. This is something that statistically we are unlikely to do. Since I applied a bead of bathroom silicone sealant into the gap, water ingress is over! So no more water splattering over the engine room's main fuse box!
I passed the time during the week watching the British Treasury Committee grilling the former executives of The Royal Bank of Scotland and HBOS (Halifax Building Society and Bank of Scotland..for those who are not familiar with the UK, the Halifax is by far and away the largest British Building Society and even now a net worth greater than the whole of the GDP of the United Kingdom!). The CEO's were wearing their finest hair shirts. When it comes to hypocrisy the British are in class of their own! These chief executives, who have pointedly crashed and burned, have all been earning less than several Premier League Footballers. The fact is that, when the music stopped, they were the poor sods left holding the parcel. Naturally all the disastrous decisions that they made were cheered on by the Bank's greedy shareholders, and if they had not of made the disastrous moves, there would have been a different set of faces getting hammered today! Being criticised by featherbedded politicians with tax free expense accounts larger than their salaries and final salary pensions setup at tax payers' expense does seem a bit rich.
I really should not get going on Obama again. I still cannot forget the Presidential Candidates' separate appearances on the US TV program "The View". Question to McCain, "Are you too old to be President?". Question to Obama, "Is it true that you are related to Brad Pitt?". By the six degrees of separation, I hereby announce that I am related to Mother Theresa!

I awoke this morning to catch the local fisherman netting off the waters around us. He caught only three foot long mullet, and looked fairly depressed. I could not help thinking that those mullet will soon have to feed the ship's crew rather nicely. I was pleased to note that following this winters bunny Killing Field's, there are signs of life around the warrens. God know's how? So much lead was expended in the vicinity of Saul Nomad, I am amazed any survived. I must dust off my scoped air-rifle!
26th February 2009
There has been lots of letter writing going on in Aigues-Mortes these last few weeks. The sender is someone called Jean Spalma who calls himself "Le President du Conseil d'Exploitation des Portes". So a very big knob indeed! Not only have I been on the receiving end, but copies have gone not only to Monsieur le President de la CCTC, but Madame la DGS!
First of all there was a letter announcing a 20% increase in mooring fees plus an additional 25% for livaboards. As someone who is wondering what to do once my last five euro note is spent, this is bad news. Fortunately the French batelliers have risen as one, and the 25% has been temporarily kicked into the bullrushes. 20% is still not particularly welcome.

Letter number two is that there should be no more than one electrical connection to the shore per boat. This one is a bit rich, as you will be well aware, I have had my reservations about the Port's electrical supply for some time. Saul Nomad requires 2 x 16 amp feeds. This should not be two much of a difficulty, as even the most basic modern caravan is fitted with a 16 amp input, and most of the thousands of European caravan sites offer a sixteen amp supply. Not only has our quay had their sixteen amp breakers substituted with ten amp breakers between me signing the contract and my arrival. Unfortunately after rereading my contract I noticed that any reference to amperage had been conveniently left out! This is not pie in the sky, as subsequently the Harbourmaster freely admitted that sadly it had happened! If one takes into account that we rarely get even 230 Volts, you will not be surprised to here that the shore breaker tends to trip out around 7 amps….ie not very much. Best to switch the lights off if you wish to boil a kettle. Low Voltage produces "Brownouts"…an example is when you switch on your washing machine, your ceiling lights dim! Brownouts are lethal for computers. Worse than the voltage spikes that we buy surge protectors for. Like most bits of modern equipment with 100,000 Euros worth of electrics, Saul Nomad is filled with computers. If you always switched your computer off by pulling the plug out of the wall, you would not be surprised if your PC tossed in it's keyboard sooner rather than later and took the fast track to that skip in the sky.
Letter number three was about anything lying on the quay next to the boat. Got to hold my hands up to that one! Under l'article 33 "Depot de materiel ou de materiaux de quelque nature que ce soit" is verboten! It does not mention that if the material happens to be a Flymo that I keep the grassed part of the quay trimmed with, it's ok. In three years I have yet to witness any attempt by the Port to cut the grass. I put the problem down to democracy. A new political team has recently arrived at the town hall, and like all politicians, they have hit the ground running. Local gossip says that there has also been a previous mysterious disappearance of somewhere between 400,000 and 1,400,00 euros from the city's accounts, and it looks like the batelliers are in the frame to make up the deficit! According to local mythology it is the Brits and the Dutch who are at fault. However there are less than ten British boats in the port , and the Dutch only winter here. The vast bulk of the residents are French, so we can soon expect to watch the sparks fly!
Qtyuippppppppppppppp xx. Ginger has just signed off this piece by walking across the keyboard. "Fifteen Dinners" is his official pedigree name, but it is a tricky one to call out at dead of night. Regular use of it might occasion yet another shipboard visit from the people in white coats! It also makes it sound like he is some sort of native American, whereas we all know that it was the Dijon woods that did not cut the mustard for him!
I spotted this rather interesting article, that you wish to pass the time reading!
Why Beans Make You Fart
by Adam Hart-Davis
The 16th-century theologian
Martin Luther
boasted that he could drive away the evil spirit with a single fart. Just imagine what he could have done after a whole plate of beans. But where does this bean-power come from?

Farts have been called belches lost to posterity, but belches or burps are sometimes caused by swallowed air, while farts are bubbles of gas produced by bacteria in the
large intestine
, or colon. Kids classify them—noisy smelly, silent deadly, and so on. There is a real medical term for farts, however: "flatus" (rhymes with "hate us"), and flatulent describes both a person who farts a lot and food such as beans that tends to produce farts.

Everyone farts. Most people fart gently every now and then, producing between 10 and 40 ml of gas per hour, but some people fart much more than this, and farts are enormously increased by particular foods, including onions, cabbage, and especially beans.
Fart production
Much of the food we can digest is made of
proteins
and
carbohydrates
, especially complex sugars, or polysaccharides. The polysaccharides are broken down by
enzymes
in the gut into oligosaccharides and then into simple sugar molecules, which are absorbed into the bloodstream and provide energy for the muscles.

However, beans contain three rogue oligosaccharides—raffinose, stachyose and verbascose—which humans cannot digest, because we lack the necessary enzyme, a-D-galactopyranosidase. These three rogues therefore go right through into the colon, where they are chewed up by
bacteria
, producing the gases
hydrogen
,
nitrogen
and
carbon dioxide
. Some people—about one in four—also produce
methane
, but most of us don't.
Smell
The smell of farts is partly due to traces of indole and scatole, but mainly the result of various sulphur compounds produced as by-products alongside the hydrogen and carbon dioxide. When you hold a fart in, the gases are absorbed into the bloodstream, and the hydrogen can be detected in your breath, but luckily the smell does not get through.
Research
At a New York farting conference, a doctor described how volunteers had sat for hours with perforated rubber tubing inserted into their rectums to collect the farts, which were then analysed for quantity and composition. On a base diet they produced an average of 15 ml of gases per hour, mainly nitrogen and hydrogen, but a few hours after a meal of pork and beans the rate went up by a factor of 12 to an average of 176 ml an hour, and the farts contained masses of carbon dioxide as well.

There is great variation between people; some produce up to 500 ml per hour after eating beans.

The doctor also found that farting was greatly increased by stress. The volunteers farted much more when they sat with their rubber tubes in a passage in an open lab than when they were in a comfortable room with armchairs and a TV set.
Other foods
Some people fart a lot after consuming dairy products; one flatulent man went to his doctor and eventually discovered he could not digest
lactose
, the main sugar in milk. When he eliminated dairy foods from his diet his farting returned to normal. For other people, sweet biscuits produce an immediate effect. If your farting bothers you, try varying what you eat and see what happens.
Prevention
You can prevent farting when you eat beans by consuming with them some of that missing enzyme, which is marketed in the UK as Ido-air, and in the US as Beano. Eat a Beano tablet first, or sprinkle a drop or two on your food, and (so they claim) the farts will not come. "Now you can have peas and quiet" says their advertisement—and for a promotion they once produced a lightweight nylon jacket—a Beano windbreaker.

In her excellent Bean Book, cookery writer Rose Elliott suggests par-boiling the beans, thoroughly rinsing with cold water, and then simmering until done, but it's hard to see how this will remove those rogue oligosaccharides.
Collect Your Own
If you really want to find out how much you fart after a meal of beans, take a bath a few hours later, and take into the bath a small empty plastic bottle. Fill the bottle with water, hold it upside down, keeping the open end under the surface so that it stays full of water, and pull it up between your legs so that when you fart, the gases bubble up into the bottle. Can you beat 250 ml?


If you don't want to stop eating beans, but find all this flatulence rather embarrassing, then just remember that you're not alone—everyone does it. Edward de Vere, Earl of Oxford farted loudly as he bowed to
Queen Elizabeth I
, and was so ashamed that he travelled abroad for seven years. When he returned to her majesty's presence, however, the first thing she said was "My Lord, I had forgot the fart."
In conclusion, it is not all hot air on this website!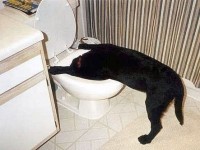 ...Water quality is what matters!
6th March 2009
Another week bites the dust. The dogs had been starting to pant continuously, and although there have been a few signs that things are beginning to warm up…although the frosts have appear to have ended…I thought it time for their first "coup Camarguese" of the season. I am pleased to advise you that the haircut has cured the panting, and put the spring back into their step! Meanwhile there is a black fur Sargasso floating in the harbour. Hopefully it will be utilised by the waterfowl to line their nests.
I have very little to report. Aigues-Mortes is still asleep. Even after "Les Bleus" had crushed the all conquering Welsh Rugby Team last Friday Night there was silence. With France as my second team, I had rushed up on deck, ready to fire a rocket and lean on the ship's klaxon. However it was clear that I might wake the dead, and I returned to my solitary celebrations. Most of the Brits say they are financially embarrassed. Things are so bad, that many say they are cutting back on their drinking! It is depressing to think they have so little to interest them! Our monocular Scottish leader has addressed Congress in a Political Love-in. He offered a Knighthood to the aging Senatorial life-guard from Martha's Vineyard. Some Labour Government's spin doctors tell us that there were as many as twenty one standing ovations…perhaps representing Mary Kopeckny's age at the time of her drowning! Naturally our dear leader was too luvvy to repeat his regular mantra that the global credit crunch is down to the Americans! OOOH! I am a Bitch!
We are taking a few bookings for our Bed and Breakfast service, but a very long way from a living wage just yet! Encouraging none the less, but it is tough being a capitalist at the moment. (Should insert "trying to be.." somewhere in there!)
12th March 2009
Yesterday we have had the pleasure of old friends Jean and Claudette Brancion dropping by, sporting their new Campervan. We had a pleasant evening washing local Oysters down with Champagne. Life is a struggle! As an unrequited camper, it was a real treat to get shown round a state of the art bit of kit. I know that Jeremy Clarkson is probably harrumphing in the back ground, but nowadays campervans are no slouches. They are not cheap either. We are talking 60,000 euros for this particular model. I have always maintained that whereas the Brit's buy boats, the French love their luxury campervans. In September the Brancions are going to tour the UK right up to Scotland, which should be a piece of cake for retired HGV driver Jean.
The weather continues to be mild, and I have started to strip the old varnish of the main hatch…as the finish has disintegrated over the winter. The wheel house has survived the freeze pretty well, but that is what sixteen coats of properly applied varnish does for you.
18th March 2009
I am sad to report that since my last report, Lulu (the 8 3/4 year old Newfie) has died following a short illness over a few days. The post mortem says that her Kidneys were very small, and were finally wiped out by two tumors. It is some consolation that there was nothing we could have done, but I will miss her loving slobber! Quite a shock! Erin continues to literally stagger on, and is the equivalent of 120 human years old!
31st March 2009
The weather has sharply improved over the last week, apart from this weekend, when we had continuous rain. Nothing to do with announcing that Sunday would be our first ASUPAM BBQ of the season! Quelle surprise, I was reduced to watching sport. Yo Gloster, who hammered Wales (The Ospreys with eleven welsh internationals), and the Dark Blues who rowed over Cambridge. In fairness it appears that apart from the necessary A-levels, another way to get on the revered Cowley Awareness course is to be the holder of an Olympic or equivalent medal!
...and Andy Murray marches on.
20th April 2009 … the news according to Saul Nomad!
Sporting wise it has been footy, footy and footy…oh and Formula 1 Motor Sport and of course Andy Murray marching on to the Monte Carlo semi-final where he was Nadal'd. The Chelsea v's Liverpool semi-final took attacking football to a new level, and brought me as close to an heart attack as anything in recent times. Formula 1 goes from disciplinary to appeal and back…quelle surprise. Poor old Ron Dennis has taken gardening leave from Mclaren F1 motor racing before his old adversary "Nazi Whiplash" Mosley drives him out for Corporate fibbing. It is better than any TV Soap!
The new mooring contracts have been drawn up by Aigues-Mortes, and offered on a "take it or you leave us" basis. After the ineffectual revolt of the French Bateliers, the Port Authorities have declared Aigues-Mortes a "port maritime" and employed lawyers. The legal ramifications are several and in a few instances could be construed as legally unfair….like absolving the Port from any financial or legal responsibility for damaging our boats! That should be an interesting one for my "learned friends" representing Lloyd's of London. Quite legally there is the banning of boats without black water holding tanks for anyone wishing to spend more than twenty days aboard annually. We all know that this has been European law for years, but as far as I can ascertain it has been largely ignored in France. It requires a pump out facility in the port..which they admit is not likely to arrive until next year! On my travels through France, I have come across barely a handful of Pump Outs anywhere. Clearly the millions of Euros that Brussels annually pays to VNF has not been spent on Pump Out stations. The law does not affect Saul Nomad, because we have excessive black and grey capacity thanks to Lee Sanitation. In the short term at dead of night, we can still send "petites cadeaux" floating down on the ebb tide for the benefit of the shellfish industry of Grau du Roi. In the future, it will affect the older boats, who were built pre-holding tank. If only I had had the foresight to have more fresh water capacity than 2350 litres, which for our four showers and on board laundry and dishwasher has proved inadequate. The Indesit dishwasher is currently hors-de-combat with what it's onboard computer insists is a faulty thermostat. This is where a British five year manufacturer's warranty has not proved good value. Indesit have been generally unhelpful, and last time I looked they have gone bust anyway. After several hours I had the whole machine apart and stared at it unsuccessfully. This was no mean feat, as the setup was complexly and beautifully built under the galley worktop by Nielsen's. As a warning to fellow Mr Fixits, the machine's capacitor was still holding a charge after it had been disconnected from the mains for several hours. I had a washing machine capacitor shock about fifteen years ago, and once experienced...and if you are lucky to survive, never forgotten!
The Port's insistence of the year's rental upfront is pretty tricky in these straightened times. Not for the first time, the global credit crunch appears to have gone over these Public Servant's heads. On the gossip front, The Capitainerie are asking for the money in cash or cheques (made out to the Tresor Public) but given directly to them…and not to the Tresor. I am given to understand that in the last few years, a serious amount of money from the Port has gone missing within the Town's treasury. In my case I was still on the Tresor's defaulters list in April 2009, when my Tresor payment receipt was dated end February! Last year the Tresor forbade the Capitainerie from collecting any payments. Of course it could have all been an accounting error, but it is all food for conjecture!
The varnishing of the glazed timber hatch over the saloon proceeds apace. It is not perfect but ten coats of saturator and hard coat glossy varnish is showing results. Just as I was beginning to get the surrounding grassed areas looking good, the four year old Flymo has crashed and burned literally. It looks like it is the carbon brushes, and they seem fairly tricky to replace. A new motor package is around £35. I have always reckoned that Flymos are priced on a disposable basis, and sadly I may have no alternative but to flash the cash. Watch this space!
The cats have discovered that the spring crop of baby bunnies and young snakes are an easy catch and are more fun than a tin of Kit-e-Kat. You cannot chase, catch and torment a tin. In the last week I have saved four of the rabbits and two of the snakes. The prospect of finding an angry and frightened Montpellier Serpent on my pillow is not a my first choice. Despite a winter of shotgun murder and mayhem in Bunny world, I have never seen so many rabbits bouncing around the fields. The chasseurs were either very bad shots, or these French bucks are particularly virile! I have had to accept the real politique of the animal world, and take a more relaxed view. For every victim I have saved, the felines have just gone out and caught another! You can always tell who has breakfasted sumptuously, as they are unable to curl up and have to lie down in a straight line for several hours!
Erin's life has steadied since Lulu's departure, and if anything she has put on a little weight. This is probably because she can return to her food bowl during the day, and not find it hoovered by her late younger cousin. I see that the family in the Whitehouse has been given a Portuguese Waterdog/Water Spaniel by Senator Edward Kennedy. The Portuguese is allegedly a close relative of the Newfoundland…both having webbed feet and that distinct stepped forehead. How apt that the sole survivor of Chappaquiddick now breeds waterdogs! Regrettably I may have to eat my beret over Hilary Clinton, who is giving indications of turning into a class act! Whitewater and the Foster suicide are but distant memories. Obama is still walking on the water. Long may he keep floating!
Easter has come and gone, and the weather was unpredictable as ever. Bedraggled campervanners hung on grimly, but by Sunday afternoon many had folded up their parapluies and headed north. I do feel sorry for them all, because after so much eager anticipation, the yearly retreat back to the office next week must be depressing. Thanks goodness May 1st is not too far away! I was watching yet another documentary on the Titanic over the weekend. It was made last year, and concentrated on the amount of human error involved...and there was plenty. One statistic that came out which passed without comment, was the fact that in 2008 the number of icebergs in that part of the North Atlantic was excessively high at 300 positively identified. "Global warning", I hear some cry! Interestingly the last time the iceberg count was this high was 1912, the year that the Titanic sank. It is possible that without the benefit of modern weather satellites, there were even more out there in 1912. Without wishing to offend even more people, I make no further comment!
5th May 2009
Another week has slid by. The weather remains unsettled, and one begins to wonder if summer is ever going to kick off. Having got to the hard varnishing stage on the glazed hatch, things have gone quiet since we had applied the ninth coat. I am sure that all this varnishing news is tedious, but unless you are own a "plastic fantastic", preserving external wood work is a fact of life.
In the meantime, the new Flymo is transforming the grass. Not quite Wentworth, but "pitch and putt" quality at the very least! The Fridge freezer began acting up, and looked like it was losing the will to chill. I have been there before, and hauling the unit out of its snug space, confirmed that the 4" extraction fan which ventilates the space behind the fridge and which was replaced only last year had given up the ghost. Can I find the receipt? Like hell! Then my trusty Kef Home Theatre System crashed and burned literally. An internal inspection found that one of the four capacitors had exploded and taken one of the main PCB's with it. This one is definitely beyond my budget, and the system has been disconnected and put into storage. You may wonder "so what", but with over 1000 DVD's in my collection it is a bit inconvenient!
Erin has started giving me real cause for concern, as she seems to get more doddery by the week. As anyone who has a much loved pet on their hands, what to do about it is a tricky question. I have always taken the view that whilst your pet still asks for dinner, and her digestive system passes the food through her body in the normal way, then we keep going. A visit to the vet last week elicited the advice that there was little he could do which would not do more harm than good! She has got arthritis. Not surprising as she has passed 120 in human years. Her back legs alternate between stiff and wobbly, but she when she tips over, her expression is merely "Oh! Bother!".
I had the long awaited visit from the Port electrician today. I could tell from the eye popping raised voice that he was not impressed with my jury rigged shore connection! However as I could not understand a word of it, I was hardly able to take offence. If I had had more than my normal mangled franglais, I would have politely asked him what he would have done if the electrics at his own home had been "off" since last September.
Part of my week was spent wondering what the media would have reported if George "Dubya" had asked the pilot of "Airforce One" to give him just one more view of the Statue of Liberty. The other part was being awestruck by the astonishing ineptitude of our British or more accurately "Scottish" government. "Just bring on the swine fever", I say. Note to editor: Bets are being taken as to whether Mike Waspe will be the first person in Ipswich to be struck down by H1N1! We checked yesterday, and found him in bed with a hangover, so he is still functioning normally! I must confess every time I wake up with an headache, I wonder whether this is it…until I recall the number of Gin and Italians that I had consumed the previous evening!
"Blackie" picked a bad time yesterday for one of his periodical "man overboards". It coincided with a large spill of what appeared to be an hydraulic oil spill. It has been a bugger to get off. Much harder than diesel. I have had to give up on the normal pet shampoos, as he still looked like the brylcreem kid. I eventually resorted to eco-detergent whilst holding him down in the kitchen sink. Gratitude was there none, and he has legged it off into the marette. He has not returned at the time of writing, which is some cause for concern. I hope that once hunger pangs kick in, he will forgive me! It is a funny thing about oil spills, as one's first reaction is make sure it is not yours...and if it is to prepare your cover story as quickly as possible. It was'nt us!
On Saturday I joined Davide on Kara for a seafood lunch. Charles from Nixa-Palma came too. I ate far too many oysters, and was later reminded of it later that day! Davide is a generous host and a former professional photographer...specialising in the music industry, with a number of books to his credit. He told this funny story about when he was photographing 60's/70's pop star Kiki Dee. Sporting three Leica's around his neck, he began jumping around getting the best angles. Sporting three Leicas is always definitely "Cool". Kiki was clearly getting very amused, and in the end she could contain herself no longer. "It would help if you removed the lens cap!" she helpfully suggested! Collapse of stout party!

Sitting on kara's flybridge, and feeling like master's of the universe! Well almost!
11th May 2009
Some of you will be sorry to hear that I have managed to get the resources in place to continue with this website…i.e. cash! I can now continue in my role as "the" Captain Pugwash of Aigues-Mortes. Not that there are not already several worthy candidates for my position in "Dead Waters", Brits as usual….but we are an island nation where even the most dedicated landlubber feels that seawater runs through his veins! On the whole the Dutch do not go down this road, and always seem uber realistic to me. Probably as most of the roads in the Netherlands are technically already under water. The Hollandaise Bateliers are notorious for finding moorings where the facilities are "very good value", and occupying them en masse. A Dutch friend recently told me that the Dutch are just like the Scots, but with the generosity bred out of them! What can I say? The Royal Bank of Scotland certainly may have some unprintable thoughts along these lines after their unfortunate purchase of ABN Amro.
Aigues-Mortes has always been the preferred wintering hole for a flotilla of Netherlanders. This week the powers that be in Aigues-Mortes, have announced that 2009/2010 winter rates are immediately doubled…which brings them up to the summer rate. That makes sense to me, as although the Capitainerie opens only four and a half days a week, the electricity usage shoots up…and that is a serious overhead for the Port. Saul Nomad is too big to rely totally on electrical heating based on the ten amp supply, but all the fifteen meter boats get along fine on it. I supplement the heat with two oil heaters…the larger chucks out 4.5 kilowatts which can cope with freezing weather. The snag is that heating oil is a minimum of one euro a litre, and we go through twenty litres a week in cold weather. I have been on an "Electricity extra" regime, and that can seriously blow a live-aboard budget. At St Jean-de-Losne, our electricity account was higher than the mooring fee! However this local price increase will no doubt cause alarm and consternation! It underlines the problem for any boat live-aboard that one is beholden to Port decisions. I am told that some boat people are consulting "M'Learned friends". I cannot see how they are going to get satisfaction, even though I am rather hazy on French law. If my life experience is anything to go by, it will no doubt turn out cheaper to just pay up in the first place.
When my cat "Blackie" had been missing for four days I feared the worst, but on Thursday he appeared none the worse for wear. His coat was pretty clear of the hydraulic oil. He has let it be known that if he gets taken on any further visits to the shower cubicle, it will be at my own risk.
Talking of battles, I am pleased to note that AbFab Joanna Lumley has been taking it to the Government over retired Ghurkha soldiers being given leave to live in the UK. Being your average cynic, I can see the Labour Party's problem. Facing elimination in the south of England and already in difficulties in Scotland, they are desperate to hang on to the Midlands and the North of England. The downer is that in many seats of the North, the Muslim vote holds the electoral balance. The Ghurkhas are hardly the Jihadiist's best friend, since the Kukri (dagger) waving Hindu warriors are usually sent in against the Taliban when the British Army wishes to scare the hell out of the enemy! A difficult one for the Shipley brothers to get their turbans around! In the meantime the BBC has appointed a Muslim as the head of UK religious programmes. I hope that he gets an well with the Sikh who produces "Songs of Praise" on sundays. As a lapsed christian, there is not much I can say apart from "It's a funny old world!"
Politicians expenses? Flipping unbelievable! The Dis-Honourable Members are all at it! Of course it is not what it seems, as the reason for padded expenses is the subterfuge exercised by past Governments in exchange for not awarding themselves salary increases…proclaiming to the electorate "we are feeling your pain!" (..ergo feeling your wallets!) I am pleased to note that the Tory expenses are more classy! You have to admit that the Tax Payer meeting the cost of tuning a Grand Piano strikes the right note! When can we get back to the traditional values of British politics? Financial scandals for Labour, and sexual scandals for the Tories.
Things are quietish on the Quay. Mike Waspe and Josie Foden from Procyon are back in the UK, at least for the summer. Josie advised me during the week that Mike was in bed with Wine Flu! Nothing changes! Pete and Prudence from "Scaramouche" are boat sitting whilst "Scaramouche" is being refurbished. At least my hangover count is down! "Erin" misses "Prince" and "Agathe". It is some solace that that all the cats join her for her daily walks…short as the promenades are. The co-ordination of her back legs continues to deteriorate, but they do loosen up after ten minutes or so.
Me? My varnish brush is in hand!
16th May
I see that the Government is ordering a third tranche of Euro fighters. After first placing an order for new Trident Nuclear Submarines, they are clearly taking Osama Bin Alden's capacity to fight quite seriously!

I was delighted to see that Blackpool are advertising that classic Gallic favourite "Lancashire 'Otpot". Having spent many years in the region, I note they are promoting the beaches, but are careful not to mention the temperature of the Irish Sea!
I have been recently expanding to the natives on my thoughts about the relationship between the English and French language. When told off about my lack of spoken French, I point out the English is only French spoken badly. It is because of William the Conqueror, I insist. The Saxons were made to speak this Norman dialect that became English. Of course this ignores the Germans, the Norse, and the Romans. French only became the national language of France in the 1880's, as every region was dominated by dialects. Before that it was up there with Esperanto. If you need confirmation, just open the French/English Larousse Dictionary. Most words are similar or the same. Personally it is the connective tissue that I have difficulty with. Early signs of my new argument are encouraging, and when I get back from accident and emergency, I will let you know if it is receiving a more fulsome understanding!
I am beginning to get the feeling that the parliamentary expenses scandal is revenge from our much maligned bankers. I cannot help but ponder that every time the fees office wrote a cheque, the banks would know to whom and how much. Revenge is best taken cold they say!
Checking out Google, I found this fairly innocent looking photo of the steps down from Camden Street NW1 to the Grand Union Canal, and looking towards Camden Market. There was a time that I was planning to moor Saul Nomad here. The developer who built those white flats under the bridge also installed bollards. I did approach them cash in hand, but was told the facilities were purely cosmetic. As I lived just around the corner, four times a day first "Laura", and the subsequently "Erin" and "Lulu" were exercised down here. After a lengthy crime wave of assaults, muggings and even a couple of murders, I put the whole idea on the back burner. I would never dream of coming down here without the dogs, especially at night, as it was inhabited by some pretty unsavoury characters. It is a shame, as it is potentially a wonderful oasis. Unfortunately the drug dealers used to hide from the Police helicopters by standing under the Bridges. Also many kids from the local estates enjoy themselves vandalising passing narrow boats. So not the best mooring!

...and back to Aigues-mortes!

The varnishing of the hatch cover is nearly finished. This is it after "lucky for some" thirteen coats of Deks Olie D1 and D2.

taken today...16th May...for those of you in Manchester please note colour of sky! p.s. Well done United!
6th June 2009
0900 hours. As I sat on deck basking in the morning sun, I sipped my bitter French coffee and sucked a Gauloise roll up. Johnny Cash's "San Quentin" is wafting from the wheelhouse. My esteemed paying guests are still abed, but no worries. Just after 0700 I had collected freshly baked pastries from the Boulangerie. A lone fisherman is chancing his arm from the river bank. Peace reigns as the round the clock intermittent explosions have temporarily ceased. Allegedly designed to frighten the rice seedling thieves away from the paddies! Since the Flamingos are protected, they cannot actually be shot! A flock of starlings is swirling over the ramparts. They are feeding on flying ants, I am told. The health police may be agitating, but my philosophy is that I may die young, but I will die happy!

Before my guests Frederic and Sophie left, they offered to serenade Bobo. They sang some of Frederic's own compositions...definitely talented stuff!

Bobo was transfixed. She always thought that that particular birdcall had come from the Hifi speakers!
Overnight I watched the UK's council election results, and rejoiced as the Tories trounced the enemy. My joy was tempered after BBC's "Newsnight" team of Wark, Crick and a bevy of Liberals explained how the Tories has in fact lost. How their obscure formula translated the Tories plus 300 seats, and everyone else's minus 300 seats into a failure defeats me! I do not pay my licence fee anymore, and am currently expecting a BBC enforcement van to cart me off in chains! (Guys my postcode is 30220...bonne chance mes amies!)
…then the England Cricket Team lost to 500-1 outsiders, the Netherlands. The Dutch needed just two runs off the last ball to win the match. With only a single on the cards, our star young fielder managed a short range overthrow which handed them the match! Call me an old cynic, but someone must have made a killing!
The main excuse for my (welcome for some silence) over the last two weeks, has been the captivating tennis from Roland Garros. However some jobs just had to be done. With paying guests due to arrive at any moment, sod's law dictated that the "Chonka Chonka" pump on the forward blackwater tank became blocked! The tank holds several hundred litres. Always a delightful (Merde) job for the Skipper! I have found that inserting a garden hose with three bar of mains water…suitably protected…on the blocked inwards side whilst the pump is "Chonkaring" usually works…and it did. Cautionary note…watch for the back splash! The tank was duly flushed clean. …then the Drive belt on the Bowthruster snapped under my weekly test. The manual describes replacing the belt as "a simple job for competent mechanic"…or was that for a "simple mechanic"! Although not on the spares manifest, a spare drive belt was sitting in the tool box. A real British thing, but lucky none the less. Who ever wrote the manual has not seen my anchor locker/fo'c'sle. Shipwrights definitely need to be as supple as Orang-utans, and with the strength of the Terminator. There was nowhere to include my legs in the space provided. Fortunately the more sylph like Lothar "the German" agreed to do the job, in return for my mowing the knee high grass on his mooring! Everything is now running perfectly. The maintenance manual also said to check the belt tension weekly. The metal belt guard was stamped "April 2002" which was probably the date of the last inspection! Clearly a tribute to the Kort KT45 thruster's original build quality!
15th June 2009
Let joy be unconfined! At last after seventy one long years of Mike Sangster, Roger Taylor, Bobby Wilson, Mark Cox, Buster Mottram, Greg Rusedski and Henmania et al, we have a British winner at Queens. Wimbledon is getting ready to build him up and knock him down.
Another week gone by, and another immersion heater bites the dust. Even the local Chandleries are out of stock. Anyone planning to spend time in France must get fitted with an anti-calcaire system of some sort. At around twenty immersion heaters in four years, one would have thought that the euro would have dropped on Saul Nomad by now! The fault is always the same. The immersion gets heavily coated in a Calcium deposit, and od's due to overheating. I am always been told by assorted persons that they have no problem with their immersions. I don't like to enquire too closely whether it is because they clearly do not use them. The new plan is that once a month I will remove the element and stick it in a vinegar bath overnight..and might even purchase a water filter. Watch this space.
Whilst I am dispensing advice, I came up with a lightening solution to chilling the contents of a wine box in around thirty minutes. Slice open the fastening flaps at one end. Float the wine bag into a bucket with ice cubes/cold water in it. When cooled to your satisfaction, return the bag to the box and reseal the box flaps with sticky tape. It keeps the cardboard dry, and only the wine remains wet.
We have esteemed guests Mr and Mrs Roger Jessop staying aboard Tuesday, through Thursday. Friday night we are having a petit soiree to celebrate my 64th year. Lothar is providing the live music….he is a former professional keyboard player. His wife Bridget has promised me a cornucopia of snacks. With a supporting cast of a twenty or so, I will no doubt be feeling my age by Saturday.
22nd June 2009
Those of you that wished that you could have been the winner of Friday's £25 million Euro lottery by that dedicated allotment owner, Mr Carswell, should spare a thought for another allotment owner Hilaire Purbrick, 45. He was so enamoured by his pride and joy, that he dug a seven foot cave in the middle of his plot and moved in. All went well for sixteen years, as our eco-warrior lived his dream. But after the cave was checked by the fire brigade, Brighton and Hove City Council decided that it did not have enough exits and sought an injunction banning him from entering it. Hilaire continued to live in the cave, but was ordered to court on Tuesday where the judge granted the council a possession order which will allow him to be formally evicted and banned indefinitely from the site. "I know lots of people in this town who live in houses with only one door with no fire exit," Hilaire said. I also know of picnics that are only one sandwich short. My Learned Friends at the European Court of Human Rights are rubbing their hands with glee. If I was Hilaire, I would have dug the bloody fire exit…even if it meant moving the Plasma TV. Taxpayers better keep a close watch on their wallets!
Then there was "Redaction" on our politician's expenses records! The wife of journalist Dominic Lawson has recently recalled her school days at an Ursuline Convent in Belgium. The nuns used redaction to censor all incoming and outgoing mail to protect their "gels" from being corrupted. The nubile young pupils countered with redacted lyrics of that famous song from "My Fair Lady". It went thus: "I could have XXXXed all night! / I could have XXXXed all night! / And still have begged for more. / I could have spread my XXXs / and done a thousand things I've never done before." We always knew those convent girls were the hottest! ….and perhaps a perfect lesson for our politicians about unintended consequences.

My charming guests, Roger and Margaret Jessop, have moved on to the next stage of their holiday. They did the Listel cave with some success and made the four canal cruise on the "St Louis". The same cannot be said for the salt works, as a tour of the museum can only be made via the town bus service. So it is no good turning up on the doorstep! The reception was less than welcoming. My Birthday party went with a considerable swing, and as predicted it took two days to recover. It's an age thing I think!
30th June 2009
We are now into the second week of Wimbledon, and our Scottish version of Charlton Heston is still on his chariot. The BBC team is in place, with the welcome addition of Tim Henman and Cumberland tennis coach Chris Bradnam, but I am having trouble with Greg Rusedski. His commentary fluctuates between the banal and bleeding obvious…and to how he would be currently playing it. Greg, you would either have aced your opponent or lost. You won many matches through tie breaks due to your inability to return serve! Ginny Wade gushingly describes the new intake on the ladies circuit as "Pinups". The thought of her blue tacking photos on her bedroom wall is a vision too far! Shame about the state of the wimmen's game tho'. Some of it is embarrassingly bad. No wonder they have had to reduce ticket prices on the ladies days. It is one thing to sit through three set matches, and another to endure brainless strategies accompanied by regular choking when plan "A" is not working, and finishing up with Federer-like sobbing. Not counting the Williams sisters, where are the Navratilova's, Henin's and Hingis's in the athletic diaspora? Now don't get me going on prize money, or the relative standards between men and women! All right then! I recall when Bjorn Borg was training at Cumberland in the 1970's, Lennart Bergelin, his coach, asked if there was anyone around who could give Marianna Simoneuscu (sic) a hit. Marianna was ranked around number ten in the world at the time. My some time doubles partner Steven Joseph, who played County Tennis for South Wales..and was therefore world ranked in the thousands, volunteered his services. He proceeded to dispatch her in two straight sets. For those who are wondering, I was never able to take a set off him in singles either! On the subject of great matches, Bjorg v Gerulitis springs to mind. Like Murray v Wawrinka, they practised almost daily together before Wimbledon. Familiarity does breed great matches!
This week I was sad to find that the multi-lingual and very capable capitaine Pascal Jurado has thrown in the towel at the Aigues-Mortes Capitainerie. After weeks of receiving treatment that in any other country would be deemed as constructive dismissal, he has quietly accepted another post within the Council. I will not name the intended replacement, but if you are confronted by someone who only speaks French, and that singular fluency only lasts as long as his eye poppingly short fuse, you will know who I mean. Spaces are starting to appear on the moorings, and that takes some doing in this day and age. This maybe helped by management demand that all annual moorings have to be paid one year in advance! Global credit crunch? Not here mes amies! All this does not include the ten French batelliers who have already taken Aigues-Mortes to court. It is clear that Capitainerie's masters/mistresses have no idea how to run a port for an international clientele. Probably not helped by the fact that not one of them have ever run as much as a chip shop, coming from the "You pay, we spend as we like!" fraternity. For the record the electricity supply adjacent to Saul Nomad remains out of order since September 2008! One of my shore connections is seventy meters away….not good if the ten amp breaker repeatedly trips when it is pissing with rain. This contrast's badly with Port Camargue, where my two a.m. phone call got an electrician on site in ten minutes! PC maybe twice the price, but they also have a five year waiting list! My moaning yet again is tiresome? Actually I love the place!

No problem with the new electricity supply to Aigues-Mortes. It only has a carbon footprint if it hits you on the way in!
Monday the sixth of July, and the Tour de France passes us in Aigues-Mortes after midday. At 15.56 hrs the peloton travels up the dual carriageway which is on the other side of the Marette. Saul Nomad may appear on the helicopter shots. Hopefully I will not have fallen off the wheelhouse roof before it flies over!

Some Italian froends from Sardinia, stayed for a couple of nights as they completed their purchase from Constance Boats.

An invitation to dinner at Michel's (71) is not to be passed up. After a lifetime of running five restaurants in this region, he is definitely one the best cooks in the Port! This particular meal was underpinned by a quite sensational fish stew. He purchased his "bateau vert" in November, and is fitting it out from scratch! As a result I have been lucky to accommodate many of his family and friends who come to stay...and eat!
July 5th 2009
Today is men's final day. Like most Brits I was saddened by Andy Murray's departure. However since Andy Roddick is a great favourite of mine, it is somewhat tempered. I know that by the time you read this, we will all know the final result. It could be the Swiss, garbed in his gold trimmed outfits that look as though Nike dug their designer out of a shopping mall in Abu Dhabi! I do not doubt his tennis genius, but I do have reservations about calling him the greatest player of all time. Statistics can mislead! At the peak of his powers, Rod Laver was unable to play the slams because he had turned professional. Winning all four of the slams in one season before he turned pro, and winning all four when he returned five years later with the open era, suggests that his ten slams would have been greatly exceeded. When Laver first turned pro, he was regularly beaten by the likes of Ken Rosewall and Pancho Gonzales. I would add Lew Hoad, but I have an idea that Lew's back had already been broken by Pancho's strategic serial lobbing. In the end the Rockhampton Rocket got the measure of the old pro's and headed the pro rankings for the duration.
July 7th 2009
Now we know the result, I have to credit Federer for not bursting into tears. All those great players standing in a row saying the Swiss was the greatest. Being deeply cynical, I wonder how much that cost Nike? Andy Roddick was superb, and in my opinion knows that he should have had him. However for those of us who have missed one or more high backhand volleys on a set or any point, he deserves understanding! An old South African Davis Cup player, Abe Segal, who had played on centre court, once told me that the court was characterised by the swirling gusty wind conditions and the long runbacks. So any volley attempted on a swinging dipping ball is particularly tricky. Baseliner Borg won his five Wimbledons when serve and volley was the order of the day, and the grass courts were faster. However his top spun balls were just too difficult to handle even in those days.
Monday was Tour day in Aigues-Mortes. Unfortunately the ITV 4 highlights, showed none of the surrounding Countryside. There were around ten helicopters hovering over us, and several dawdled over the Port, so I think somewhere someone saw the ship! However for those of unparalleled observational powers, I can be seen crouching down to photograph the passing peloton.


The unmistakable Flamingo sign means turn right for Aigues-Mortes.



...by sheer fluke, number 22...the seven times winner...Lance Armstrong is second as he passes me! One waits for several hours, and the actual race passes in a few seconds. However great fun is had as the preceding "Caravane" had deluged us with petites cadeaux. Just as I was about to expire, I was struck by a half litre bottle of chilled "Vittel" water flung from the sponsor's camion as it raced by.

Getting the brakes adjusted whilst on the move!
17th July 2009
In the last few days I have brushed a coat of black tar on to the hull. International "Intertuf" as usual. Only 2.5 litres for the whole ship, although I had thinned it with around thirty percent white spirit. The incentive was the Cardiff Cricket Test against the dreaded Australians. Having watched most of the match from behind the Sofa, I decided that I should do something more productive! It seemed to have worked...we stole a draw and are well placed at Lords in the second match!
27th July 2009
The cats...probably "Blackie"...got the moorhen last night. They had been stalking it for weeks, and I had begun the think that it had got the measure of them. Clearly not! Somehow they had got to its nest which had previously appeared impregnable amongst the reeds. The corpse was lying on it's back next to "Saul Nomad" this morning. Very much toes up! This fatality has happened within a week of the Coypu's demise. I had presumed that the latter had become the victim of some particularly sullen all night fisherman who may have amused them selves by killing him, but the jury is still out on that crime. Last year Lulu cornered him by the fence, but at around a foot long including tail and gnashing teeth he won that particular stand off. I will miss the Coypu, because he used to chunter harmlessly around the marina every night, munching the weed off the hulls.
Every evening just before dusk, we witness the Seagulls returning from their daytime jobs on the streets of Montpellier to their roosts down at Espiguette. It is a distance of 30 kilometres, and a fair old commute. Normally they carry it out in elegant vee formations that stretch across the sky as far as the eye can see. However it is all change when the South Easterlies blow. "Rain wind" I call it. Flying into the teeth of a gale, the Gulls fly low in broken formation…tacking left and right. Some of the younger ones spot the cluster of white Little Egrets camped out next to the horses that are loose in the Marette. Swooping down to inspect them, like small kids calling out from the back of the car "Are we there yet, Mum?", then realising that they are joining the wrong mob and that there are still several kilometres to slog! Homing instinct is an amazing thing.
After ten nights of friends and family, we have had two weeks of quiet. The weather has been glorious, and so dry that I have had to water the mooring to keep it green and not from it reverting to a dust bowl. "Procyon" is back and tucked up next to us following a survey at La Grande Motte. It reminds me that "Saul Nomad" is overdue to have her bottom cleaned and painted. It is the one time when a decent tide would come in handy, as we could beach her and power spray the growth off. We are too heavy for Port Camargue, and the cowboys at Grau du Roi want 1500 euros to slip her! Have to keep it on my list of "urgent" things to do.
31st July
Sadly the end has come for my dear "Erin". She would have been fifteen years old next Friday, but it was not destined to be. She was just completely exhausted. Losing both my Newfoundlands in the space of four months has been quite a shock to the system. We are now down to three cats and a parrot, so no respite for the local wildlife just yet! The cats, Ginger in particular, were very fond of Erin, and have joined me in mourning her departure. When Erin was going walkies, she always had feline company. The last few days the cats have been wandering around the ship looking for her. One cannot ignore Bobo either. Having presided over twenty years of Newfoundland rugs, she has clearly noticed the empty floors.
Talking wildlife, last year it was flies but this year we are currently inundated with wasps. These are gangly things that fly with their undercarriage hanging down at the back. Francoise assured me they do not sting. Wrong! As I have already found out the effects of the sting hang around several days, and was wondering whether they might be related to hornets. These insects seem to have a predilection for setting up home in the BBQ's. Not really a sensible long term arrangement! I have bought a can of "Kapo Choc (impact) for volants rampants", and it is proving terminal for our black and yellow friends.
Blue skies abound, all the more satisfying when one notices the July UK Meteo. I have been abortively looking around for the Australians to discuss the Cricket with. You can never find an Antipodean when you need one! It was the same during the Rugby World Cup. One minute they were strutting around the Port, and the next they all just evaporated…probably on the same flight home since both their countries are in the same general direction! The worry about our dear friends is that like some Hammer Dracula film, you presume that you have driven the stake in far enough, but it never is! Up they pop as bolshie as ever. The problem is that they presume that they are going to win, and they are not usually wrong!
Tuesday 4th August
Things have been very lively on the Gendarme front this morning. I have not seen so many Police vehicles and Helicopters around here since the Tour de France. A blue flashing light always makes my heart flutter, but fortunately les flics were showing no interest in my Landrover at all! It now turns out they were looking for the new Socialist Mayor of Aigues-Mortes. Yet another bad day in Office on Monday may have finally tipped him over the edge. On Tuesday morning he did a Captain Oates, leaving a suicide note on his desk! Fortunately after an extensive Mayor hunt, he was found by the Pompiers alive and well in the Port at Carnon. There is a rumour going around that there has been communal singing at the Conservative run "Terre de Commune" and also at VNF. They have all been at loggerheads with him since he was elected. As you already know, I do not rate the Terre de Commune management very highly, but I am assured by Charles of "Nixa-Palma" that the Mayor is a good guy! I know that there is currently much talk in the United Kingdom regarding the wonders of local democracy. It always used to be the Liberal Democrats, searching for some way to bring meaning to their lives! Regrettably the Tories are at it as well now, probably because they have gradually swept the board in the National Council Elections. They have long forgotten the Socialist London Boroughs in the 1970's, that had debts in excess of the national debts of countries like Rumania. The downside Local Politics is that, as we are experiencing in Aigues-Mortes, it either brings the farce of national politics down to a local level or allows serious nutters to strut their stuff. At the national level it does not really matter, but locally it brings paralysis at the point of delivery. As soon as a different party gains power, all the Civil Servants change as well…competent or not. My solution to politicians is to have less of them! Alas it is never going to happen! Turkeys voting for Christmas…fat chance!
12th August
The stories on the Mayor front are getting ever more lurid. The latest which I do not believe, is that the mayor's wife has run off with the lover of the bi-sexual mayor. It started with the news that the mayor's wife had left him broken hearted, but the port's system of chinese whispers just improved it.
I had not given it a proper tidy since 2005, and it took three hours to achieve the transformation. Now it really does look tidier than this photograph!
27th August 2009
I have to make an announcement…I am coming out! Louder! I am Coming Out!! After five tortuous weeks behind the sofa, I have emerged blinking with amazement! England have beaten Australia in the final Ashes Cricket Test. Oh Joy..and not an Aussie in Aigues-Mortes prepared to identify themselves.
O.K. Andy Murray lost to top seed Roger Federer in straight sets, 2 and 6, in the Cincinnati Semi's. I still have not picked up on why the new world number two was in the top half of the draw, as the normal second seed position would be at the bottom. He certainly came close as the tie break set point in his favour missed by millimetres. Then there was Lewis Hamilton's disastrous wheel change whilst leading in Valencia Grand Prix! Who cares anyway, the Ashes are back in the long room with our name on them!
It has been medieval festival week in Aigues-Mortes this week. I cannot say that this staged fakery appeals to me, but would connect with anyone who lives for the "Sealed Knot" moment. Lots of swords and armour and middle aged men prancing around with bells on their ankles and waving lace hankies! However and most importantly the French love it. The whole thing was finished with the ubiquitous firework display, and within 48 hours the cavalcade of tourists had drifted on their way. I have had a whole series of very pleasant guests, and was sorry to have to bid them farewell!

It is an interesting time on the naturalistic front. Birds that are migrating from northern Europe to Africa, stop off to refuel. The local canards are feeding up their last broods of the season, to survive the winter. Unusually for the Mediterranean the local Flamingos do not head south, but stick it out here.

Blackie spends his siesta under the inflatable!

My Capsicum bush is churning out peppers. Extremely mild but they stir-fry brilliantly.


All bark and definitely no bite!
I see that Gerry "RyanAir" has been fishing around for profit, and his £1 flights have so many extras that it can only be a question of time until rows three to the back will have to pedal hard on take off. As far as I am aware the first two rows will continue to be reserved for nursing mothers. There is a company that regularly advertises compact pedal machines in Saga Magazine. I am sure that these could be adapted.

On reflection, my own siesta beckons!
15th September 2009
It has been a pleasant two weeks. First my sister Lorna visited, and then we had four days of her Daughter Caroline along with her friend Kerry. I arranged a visit to Maguelone Cathedral. Although I have a history of religious failure…thirteen percent in the Common Entrance Divinity examination cannot lie, I always find Maguelone a very spiritual experience. A perfect place to visit after a bad day at the office. Although there is no internal furniture to speak off apart from the alters, it is still consecrated. Funny to think that in Medieval times it held sway over Montpellier, and in the 12th and 13th centuries several Montpellier Bishops were buried there….plus several of the Avignon Popes stayed awhile.


Messaging old and new! A candle or a text message, you choose!
There had to be a fair degree of tongue biting accorded to Lorna, because she is a great fan of the Swiss Miss Mr Federer. I have always felt that recent US Open's were more suited to bangers like Roddick, Cilic, and del Potro, and fortunately in the end it proved to be the case. If Andy is going to win a slam he is going to have to attack more. For what it's worth the great Australian Davis Cup manager, Harry Hopman always emphasised that his young players (Rosewall, Hoad, Emmerson, Stolle, Laver, Newcombe and Roche to name a few). start with perfecting their defence and then progress to attack. So there is hope for our young Scot yet!
I have since received a unsubstantiated report from Tom the American, that the Mayor of Aigues-Mortes has stopped his wife getting the house, may get soon access to his son, and now has a new girl friend, so it looks like all the previous theories are out the window. We still have the problem regarding the hand gun, but I am sure it will be sorted out! Talking to the Bronx Italian Tom is always entertaining. Like being on the set of "Good Fellas", just waiting for DeNiro and Joe Pesci to drop by! Forgeddaboutit!
The weather has been quite glorious, but it dropped to 12 degrees centigrade in the early hours of this morning. I know it was that temperature because I awoke shivering and found that the parrot's roost was dropping below a self imposed threshold of 17 degrees. I switched on the electric fire and retired to my bunk. I am clearly out of practise because the combination of the immersion water heater and the fire soon tripped the shore 10 amp breaker out. Struggling along the cold concrete quai in my underpants in the dim light, the one hundred and forty meter round trip to the supply box gave me plenty of time to reflect on my error. There is no sign that any attempt is being made to repair the dedicated shore supply next to my wheelhouse…still it is only just over a year now!
I have recently discovered a grass seed that is designed for very dry conditions next to seawater. Watch this space, and hopefully our gaps will soon be covered over! I have booked Saul Nomad for a week on the Grau du Roi slipway on the 28th September. The sharp angle on the slipway requires a change of lifestyle, as the ship needs to be prepared as though we are putting to sea. I am drawing up a long list of things that have to be placed on the floor. I also have to decide what to do with the cats. Whatever the choice, I know that they will be pretty unhappy about the whole operation.
I was given a lesson in female multi-tasking this evening. Standing in the Lidle check out, I witnessed "Emilie" stop stacking shelves, checkout two chariots with credit card payments, check some prices with the supervisor, do all the normal "bonjours", "mercies" and "au-revoirs", all whilst discussing a new boyfriend with her best mate who was standing nearby! If she really was a super Sharon, she would have been chewing gum as well! Look on and admire grumpy old men!
17th September
This morning I raked the seed bed. My god I am unfit! Too many Gauloise roll ups! No wonder they are nicknamed "gaspers"! Then the seeding. Returning an hour later to admire my handiwork, I discovered that an army of ants were systematically removing the seed to their home…which seems to occupy most of the bank behind my Jardin. Watching 34 euros of grass seed being so blatantly stolen prompted a hands and knees search of the kitchen sink cupboard to find last years unused bottle of Ant spray. A bad day for the ants who had neatly stacked several handfuls of seed next to their entrance. Very convenient for their assassin! I am definitely going to need a few early nights before I scrape and repaint our bottom!
18th September
The ants appear to have staged a major recovery. They really love this grass seed. So much for France being the world's third ranked pesticide user!

We are now in that season of mellow fruitfulness.

The searing heat has gone!

A reminder that Saul Nomad needs her bottom doing!

Another tree for Lorna to paint!

The grapes are picked. Stand by your bunks for drinking!

The Schools have gone back along with the families. It is more the elderly and dogs right now! ....that is until the Aigues-Mortes feste when all hell breaks loose!
2nd October 2009
In the Davis Cup the inevitable happened. How and earth British pundits could claim that the Poles were the underdogs, when we were only certain of winning the two Murray singles, escapes me. Apart from our brilliant number one, British Men's Tennis is currently barely above County standard. Staggering when you consider the millions that have been invested in it!
We were scheduled to go to the shipyard on the 28th September, but I have moved the date on a couple of weeks so than we can take advantage of the Aigues-Mortes festival. It is going to be rather daunting since I intend doing most of the work myself. I must remember to wear Eye protection, as after a previous accident with Xynol based paint in 2006 I can still recall the pain that felt like scotch bonnet peppers had been inserted behind my eyeballs! It is also painful to recall that as I lay sedated with Wine and Paracetemol, thieves chose to steal my vastly underinsured Quad Bike. Funny how some things stay with you!
However he executed the turn with plenty of room! Not so lucky this week as he was not third time lucky, as I had to quickly get Saul Nomad off our mooring so that he could bury his bows in the concrete. It was the first time I had moved in well over six months, so my weekly tests of all systems proved to have been a good idea!
9th October 2009
On a more serious note, I will give you a full report on our Slipping, Power Clean, and repaint in two weeks time. It is a first time for Slipping and using the Xynol based "Intertuf 203". "203" replaces the Tar based "16", which for fairly obvious reasons is now banned from waterways. Hopefully there will be no disasters!
Whilst preparing for leaving, I discovered the Clamboat had gone missing. Having carried out a fairly thorough search and presuming it had been stolen, I visited a very disinterested Grau-du-Roi Gendermerie. It was sunday after all! Needless to say, I had turned up without enough paperwork and returned to S.N. for a paper hunt. No bloody sign! On impulse I took the bike out for another search and lo and behold there was the ClamBoat down the canal with it's bows jammed under the bridge arch at the Saltworks. So no insurance claim, and had to retract my accusations about dishonest romany horsmen...blah...blah. I think the loss had more to do with the Captain's dodgy ropework!
The 12th was slippage day, and we sailed for Grau du Roi just after 7.15 am. A bit tight for a 7.45 Pont Levant, but the fifteen minutes I had built into the system soon evaporated. As I went to settle the cats in their temporary home on "Procyon", it's door came of it's runners and landed on my ankle. More haste less speed as the air was painted blue! After weeks of comparative calm, a mistral had blown up, and negotiating Saul Nomad onto the Spano slipway runners was tricky with a howling gale on our port beam. As usual the thrusters did their stuff. The notorious Mr Spano was in fine voice as he directed us up the slope. Definitely not to be taken personally, as Mr Spano's bellows are equally delivered to all the professional skippers who also slipped over the twelve days.
It may look warm, but there was a chilly Mistral howling. After three days, even I got rid of the shorts for jeans, and dug out some socks!
Saul Nomad was long overdue for the job, and the encrustation on her hull was a serious fruits de mer! All ten of the hull anodes had long disappeared, and after three days of scraping and nine and half hours of karcher (particularly unpleasant with an air temperature of 8 degrees Celsius first thing in the morning), pitting was clearly evidenced along the starboard shore side from water level down 12 inches. The hard chine was not bad and all credit to R.W Davis…their two pack black epoxy paint was almost as good as the day they sprayed it on the bottom back in 2002! Not a speck of rust. In fact credit to Craig Glassonbury as he clearly built one hell of a hull. I have had my moments with R.W. Davis, but credit where it is due!

She's done! Greyhound of the sea?
My next jobs were the application of the International "Intertuf 203" primer and anti corrosion, followed by antifouling and ten new anodes. I did it all on my todd and I reckon it took around ninety hours! At least most of the time I felt ninety! A combination of Ibuprofen and Beer got me through it! The beer was for the parts that the anti-inflammatories could not reach! On a brighter note it was a considerable saving as the yard labour would have been charged at 50 euros an hour plus TVA !

Through the pain and suffering, I took a shine to Grau du Roi. It has been on my doorstep for three years, and I have always looked at it as a traffic jam interspersed with tiny little streets. However looking at it from my airborne state on the slipway next to the Port du Peche, it changed into a bustling little fishing port with a good deal of charm! Everynight at around three the fishing fleet sailed, returning twelve hours later. What Fishing Quotas?!
We were due to leave at midday on Wednesday 22nd, but as soon as the mistral's icy winds had finally blown themselves out, a monumental storm blew in from the south. Consequentially we were still stuck on the slipway at the end of the day. Having survived a mistral on the Rhone and a number of serious spates on the Saone, I am not really fussed by inclement conditions on inland waters. However I am sure Mr Spano did not want to risk getting his gear trashed, so here we waited! Not quite high and dry, but high anyway!

Looking a bit more cheerfull now. There had been a heartstopping moment at the Pont Levant, which broke down. Sometimes it has been out for months. Fortunately after twenty minutes it's pulse returned!
On Thursday the return up the canal to Aigues-Mortes was a simple exercise, and the ship's handling was noticeably lighter with several tons of seafood removed from our bottom. Ably assisted by David Cosset of Kara, who being a retired photographer kindly fired off a few snaps with my Nikon D2x.

The Red Duster is for Captain Colin Stone (R.N. Retired) who has previously told me off for flying a Euro Flag! Quite right too! Colin was the star who beat the Inland Revenue into submission on the matter of zero VAT on Dutch Barge type houseboats. Unbelievable but true! See HMRC site for official capitulation!
The cats were overjoyed at our return and even after four days back, I am still shrouded in feline scarves and blankets as soon as soon as I sit down! In my absence, Blackie has even taken to sitting on top of Bobo's cage. This has not gone down particularly well with the Parrot!
6th November
Our joy was short lived. The cats are all down with various forms of La Grippe and secondary infections. They are now slightly digruntled, after the vet had inserted thermometers and needles into their bottoms. Bang goes this month's budget!
Time to antifoul the clamboat!
That looks better! The wheel mechanism is jammed down with rust, which affects the top speed...but she moves better after the bottom scrape! Getting technical support is virtually impossible, as the Clamboat company has long since disapeared! Their unlucky suppliers never got paid either. Shame because the concept is a good one, and my clamboat has never let me down.
20th November
Trying to be suitably green, I have recently been looking into fitting solar panels onto Saul Nomad. Looking at the specs, I discovered that the best efficiency I could find was a twelve percent conversion of the Suns rays to electricity. Hey, it's free electricity! More ominously the 88% balance comes out as radiated heat from the black panels. Makes you wonder about those huge solar panel energy farms in Central Spain, and proposed desert installations. Will the Law of Unintended consequences produce yet more Global warming? For the wavering sceptics amongst you, I suggest buying a copy of "Super Freconomics" for Christmas. In the meantime our solar panel installation is on hold. As a postscript the French have it right as usual. Eighty-one percent of their electricity is Nuclear Powered…and the nearest Nuclear power station to London is in France! Yah! Boo! Les Pommes!
(Editor's note: Sorry we appear to have lost everything between now and 2011! This may take a while to rebuild...even a year of blarney takes time to create!)
2010...lets start with some pictures!
Firstly I made a quick trip to Nimes...by car, as the Buses were on strike!

Just to piss everyone off they were driving around displaying "Sans Voyageur" signs!

The Nimes Arena is worth a visit.

Kitchen staff clear the tables!

Maintenance staff look younger as I grow older!

My tailor does not look particularly rich!
And then a trip to Sete...by car again...it's quicker!

Not the most beautiful beach in the world, but these young lovers are in their own world!


The French "do" old doors really well!


The French version of "Gangooziling"!


I am doing my own sightseeing! What is it about little red sports cars and pretty girls!


Looking down from the "Mont" towards the Oyster beds.


Sete in all it's glory!


Time for a beer!


Old fisherman cottages. Habititually occupied by artists and writers.


It is camera heaven!

Laundry is for the birds!

Sete panorama.
September 2010. We are invited into the parade of the Aigues-Mortes boat festival.

The Captain is thinking "I have a number of lunatic passengers on board". Fortunately I have Sharon Hubbard hazard spotting in my bow.

Nothing impeding my view! There is Sharon up for'wad.

What was I thinking when I gave Jean-Louis my hand pumped air horn? There is no gas cylinder to run out!

God bless Sharon!

Lothar has got his flags out.

Lots of traditional little craft to look at.

A morning after "sedatif" on board "Rescator".

The heads on "Rescator". A welcome sight.

Some Brits show up. Looks safe enough to me!

The crew are still up for it!


The skipper is starting to play "Baguette Bunnies". This will end badly!